This article presents a good solution to prevent birds from perching on Antennas: the Bird Repeller for TV Aerials
Why do birds perch on TV antennas?
What problems do they cause?
Why do Birds Perch on TV Antennas?
It is very common to see birds perched on TV antennas in our towns and cities.
TV antennas have become a perfect spot for birds, especially in areas where there are not many trees. Being elevated, TV antennas offer birds a perfect observation point. They provide good visibility for finding food or spotting potential predators.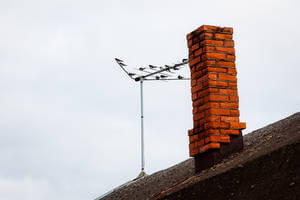 On the other hand, birds are social animals. They enjoy interacting with each other, and TV antennas allow them to gather in one area.
The birds that most commonly perch on TV antennas are pigeons, sparrows, starlings, crows, blackbirds, and more. Their feet are specially adapted to grip branches and also TV antennas. Not all bird species have this type of feet with three toes in front and one behind, which allows them to easily grip a branch, TV antenna, or electrical cable.
What Problems do Birds Perching on Antennas Cause?
The main problem caused by birds perching on antennas is the mess they leave behind. Bird droppings fall onto the roof, solar panels installed on the house, terraces, awnings, clotheslines, light wells, gutters, and more.
As explained in the article "How to Clean Bird Droppings", bird droppings are highly acidic, which makes them corrosive and can damage facades, solar panels, roofs, etc. Additionally, they can be a source of diseases like histoplasmosis.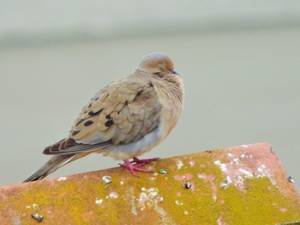 In addition to the mess, birds can cause signal loss and interference in the TV antenna.

Bird Repeller for TV Aerials – A Fantastic Solution to Prevent Birds from Perching on Antennas
There are various general solutions available in the market to deter birds from rooftops: sonic-based bird deterrents, visual bird repellents, ultrasonic bird deterrents, and more.
However, the Bird Repeller for TV Aerials is specifically designed to prevent birds from perching on antennas.
Its operation is very simple:
The Bird Repeller for TV Aerials is attached to the TV antenna using a 1-meter long mast. The equipment comes with everything necessary for installation: mast, zip ties, etc.
The arms of the Bird Repeller for TV Aerials rotate continuously with the slightest breeze. This prevents birds from perching on the antenna.
As you can see in the image, the ends of the rotating arms have hologram stickers. This gives the Bird Repeller for TV Aerials a flickering effect, combined with the rotation of the arms, which scares and deters birds.
More Information on Bird Repellers
For more information on the Bird Repeller for TV Aerials or to place your order, please visit the BirdGard Iberia online store.