In this article, Embalatges Serdá shares their experience with the "Bird Lazzzer" Laser Deterrent to repel a sparrow infestation that was dirtying the pallets the company manufactures and stores.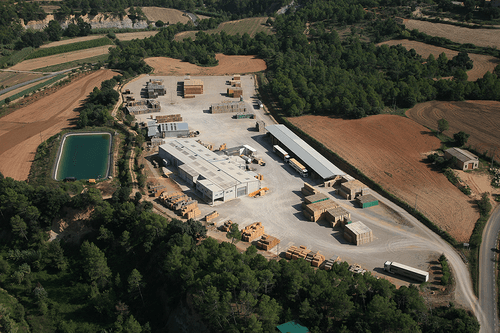 About the Company
Embalatges Serdá is a family business founded in 1910. They specialize in the manufacturing and recovery of wooden pallets. The company is headquartered in Castellbell and Vilar, in the province of Barcelona. Here they have facilities covering 30,000 m2, dedicated to the manufacturing, storage, and logistics of pallets.
Embalatges Serdá produces 3,000 pallets and maintains 1,800 pallets daily. A standard pallet measures 1.20 meters in length x 0.80 meters in width. The pallets are made from green timber. This wood needs to be properly ventilated to avoid dampness and fungi.
Due to the large size of the pallets and the wood maintenance requirements, Embalatges Serdá stores the pallets outdoors at their facilities until they are finally transported to the customers.
The Sparrow Infestation Dirties the Pallets with Their Droppings
The company is situated in a rural area, not too far from the Montserrat mountain, where there are numerous sparrows. Even though the sparrow is a small bird, the sparrow infestation at the facilities results in the pallets being heavily soiled by their droppings.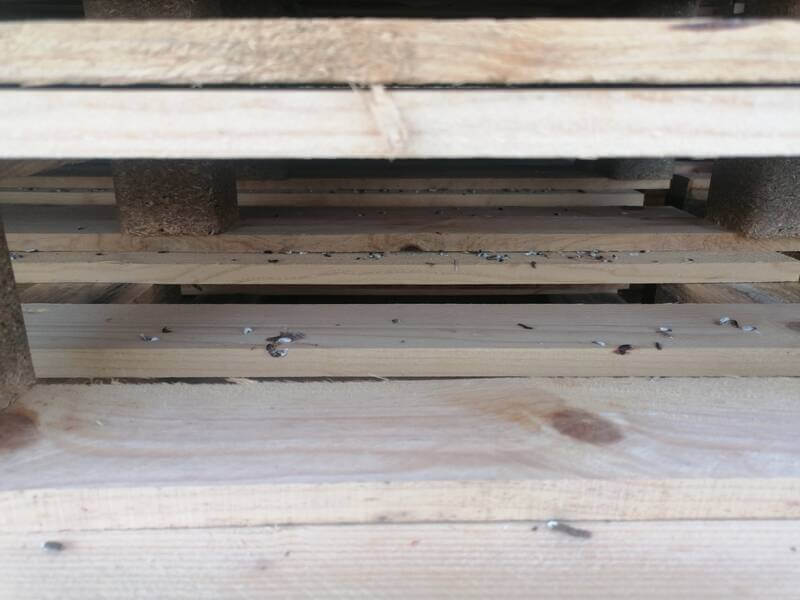 The mess from sparrow droppings forces the company to manually clean the pallets before they can be delivered to customers. This leads to increased delivery times and considerable production cost overruns.
To protect the pallets dedicated to customers with the highest hygiene requirements, such as clients in the food or pharmaceutical industry, Embalatges Serdá has a storage warehouse of about 900 square meters. This warehouse is roofed but open on all four sides, in order to keep the wood aired and free from fungi and dampness.
Although the warehouse protects the pallets from weather and harsh conditions, since the warehouse is open-sided, the sparrow infestation manages to get into this area and soil the pallets with their droppings.
Laser Deterrent to Ward Off the Sparrow Infestation
Xavier Serdá, the company's administrator, showcases and explains the system implemented to try to eliminate the sparrow infestation and protect these pallets:
"As you can see in the video, to protect our pallets from sparrows, we installed a bird laser deterrent in 2020. Specifically, the Bird Lazzzer model from BirdGard Iberia.

We have the bird laser deterrent installed at one end of the warehouse. It is situated at the highest point of the warehouse, about 6.5 meters from the ground. The device comes pre-configured to emit a green light laser, which sweeps both horizontally and vertically. It always performs the same sweep. It operates for 20 minutes and then stops for another 20 minutes. We have installed it with a photocell system, so the laser operates only during the day when the sparrow infestation perches on the pallets and soils them. At night, the sparrows do not cause problems because they are in their nests. So when the photocell detects that it has become dark, it automatically deactivates the laser.

Despite the warehouse being open on all four sides, letting in daylight, the laser has enough power to be clearly visible and scare off the sparrow infestation in the areas it sweeps over.

The warehouse covers about 900 square meters, and we have several stacks of pallets stored, meaning some stacks cover others. As such, we are planning to install a second laser at the other end of the warehouse. This way, we will increase the protection and scare off the sparrow infestation in areas where the laser currently doesn't reach.

Sparrow infestations are very challenging to eradicate, but our experience with the laser to deter sparrows from the warehouse is positive. The laser scares them, and the sparrows take flight and leave the area as soon as the laser sweeps over them. In this way, we have managed to protect most of the pallets from sparrows and their droppings. This also allows us to save on maintenance costs, improve delivery times, and ensure the quality and hygiene requirements needed by our clients.

We have been using the laser for nearly two years, and to date, the sparrows have not become accustomed to it. The laser still scares them when it sweeps over the area."

Xavier Serdá, Administrator of Embalatges Serdá
Additional Information