Introducing the Bird Tape that vibrates in the wind and produces a buzzing-like sound. This sound bothers birds and keeps them away from crops, gardens, industries, and more. It's an affordable, eco-friendly, and environmentally conscious product.
In this article, we answer all our customers' questions about this vibrating tape:
How does this Bird Tape work?
It works by emitting sound waves that create a stress effect on birds, causing them to avoid the protected area. The noise produced by the tape vibrating in the wind disorients the birds and keeps them away, as they find it unpleasant and threatening. With the buzzing of the tape, birds cannot communicate clearly with one another and move away from the area.
How should I install it?
Installing the Bird Tape is very simple. It is installed between vertical poles spaced about 4 to 8 meters apart. The tape will emit buzzes when there is a light breeze. These sounds will vary and become stronger as the wind picks up.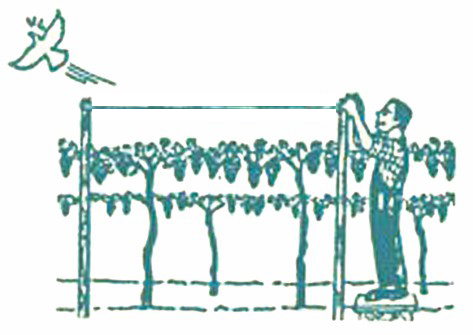 When placing the Vibrating Tape between the poles, make sure it is taut and free of twists or wrinkles. Also, it is important that the tape is placed at an appropriate height, about 60 – 90 centimeters off the ground for low crops, and about 2-3 meters for orchards or fruit trees.
What spacing should I leave between tapes?
If you need to place several lines of tape for greater protection, the recommended spacing between tapes is:
about 9 meters for small gardens and vegetable patches.
about 25 meters for larger areas.
where more protection is needed, tapes can be placed closer together or overlapping at different heights.
Main Advantages
The main advantages of this Vibrating Bird Tape are:
Very cost-effective compared to other bird control methods.
Eco-friendly and environmentally conscious. Does not harm birds.
Easy to install. Does not require electricity or batteries.
Effective in protecting crops and gardens from bird damage.
"I installed this Bird Tape in my vegetable garden and noticed a big difference. Before, I had a lot of problems with sparrows, but now with the noise the tape makes, they don't come as close. It works well and is very easy to install."

José Luis G., Murcia
"I am very happy with this Vibrating Tape. I bought it for my garden because blackbirds were digging up the soil and dirtying my terrace every day. Since I installed it, they don't come anymore."

Teresa J., Madrid
Where can I get it?
You can purchase this Vibrating Bird Tape at BirdGard Iberia. It is available in two formats: 30-meter or 500-meter rolls.
If you have any questions or need advice on using the tape, do not hesitate to contact BirdGard Iberia, your online expert in bird deterrents.